Twilight of the World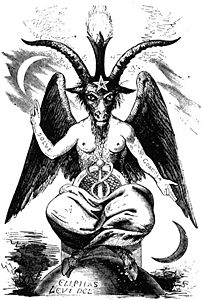 Baphomet
(text by Aleister Crowley from "The Book of Lies
" )
A black two-headed Eagle is GOD;
even a Black Triangle is He.
In His claws He beareth a sword;
yea, a sharp sword is held therein.
This Eagle is burnt up in the Great Fire;
yet not a feather is scorched.
This Eagle is swallowed up in the Great Sea;
yet not a feather is wetted.
So flieth He in the air,
and lighteth upon the earth at His pleasure.
So spake IACOBUS BURGUNDUS MOLENSIS
the Grand Master of the Temple;
and of the GOD that is Ass-headed
did he dare not speak.
© 2004 Wolfsblood